Wisernotify offers built-in trackers that provides the most convenient way to measure the impact, performance, and ROI of your social proof.
What are goals?
Goals are the actions you want visitors to take on your website, such as signing up or making a purchase. Each goal includes a dollar value to estimate the revenue generated by conversions.
Why set goals?
Goals are not required, but we highly recommend setting at least one to see how many conversions can be attributed to Wisernotify social proof notifications. This helps you gauge the effectiveness of your notifications and optimize your social proof strategy.
How to create your first goal?
To create a goal, you need to specify its name, value, and completion URL. The name is for internal reference, like "Signups" or "Product Purchase". The value helps track the average revenue per conversion, and the completion URL is the page visitors see after completing the action, such as a thank-you page after signing up.
Enter Goal name that is easy to remember
Goal complete amount( you can enter product price or services price)
Set Goal completion URL
This is the page visitors see after completing the action, such as a thank-you page after signing up.
The completion URL: you can enter the exact URL if it's fixed or select a URL containing a keyword if it's dynamic.
A. Exact URL
If you've fixed Thank you/Confirmation URL then copy the that URL from browser & paste it in exact URL text box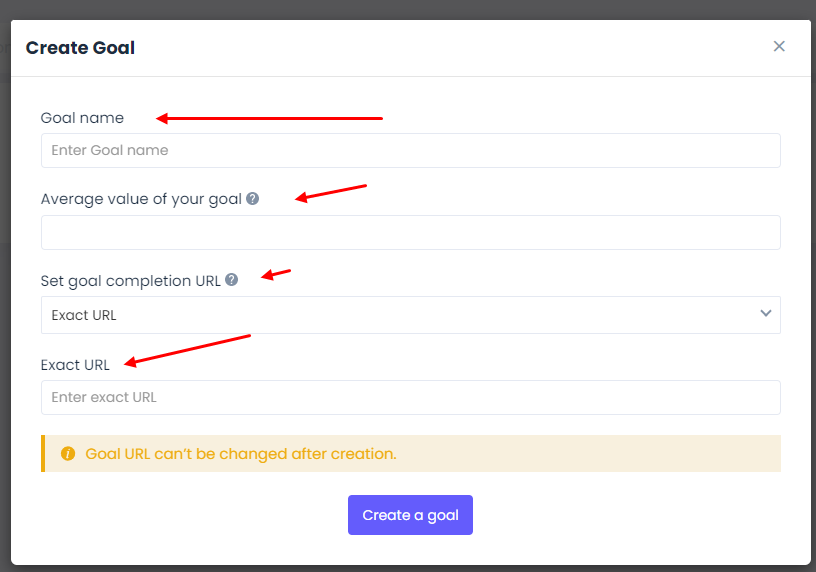 B.  Select URL containing a keyword
Use this option when you've dynamic thank you page url like you're passing the UTM values in query prams at end of URL so you don't have exact URL, In that case, you can use this option.
Example: hostname.com/thank-you.html?utm_source=abc
In this case, you just need to add "hostname.com" in "Enter website domain" textbox & "thank-you" in keyword text box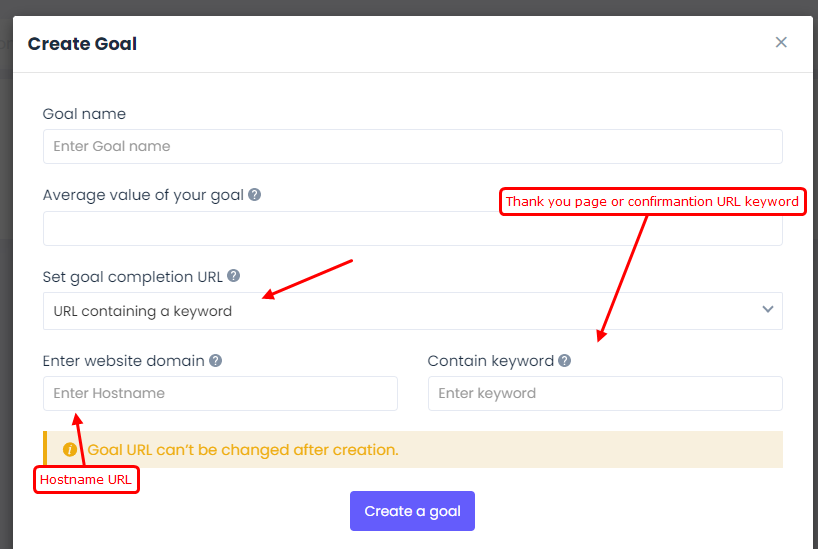 How to track goals using code?
If you want to track goals dynamically using a code snippet, enable the code tracking option in the goal settings, copy the tracking code, and paste it on your website. Make sure the Wisernotify pixel is installed on your conversion page, or else goals and conversions won't be tracked.
First create a goal then Edit that goal & get your track code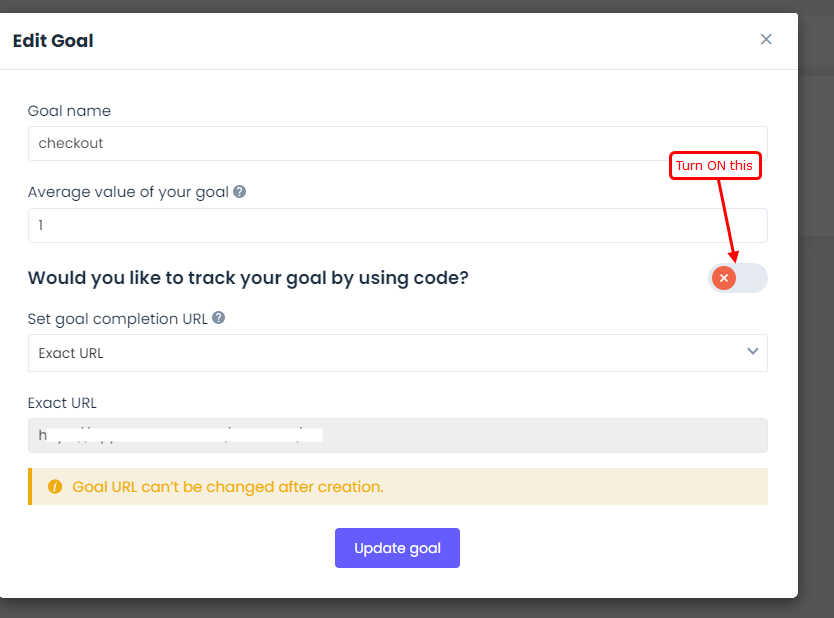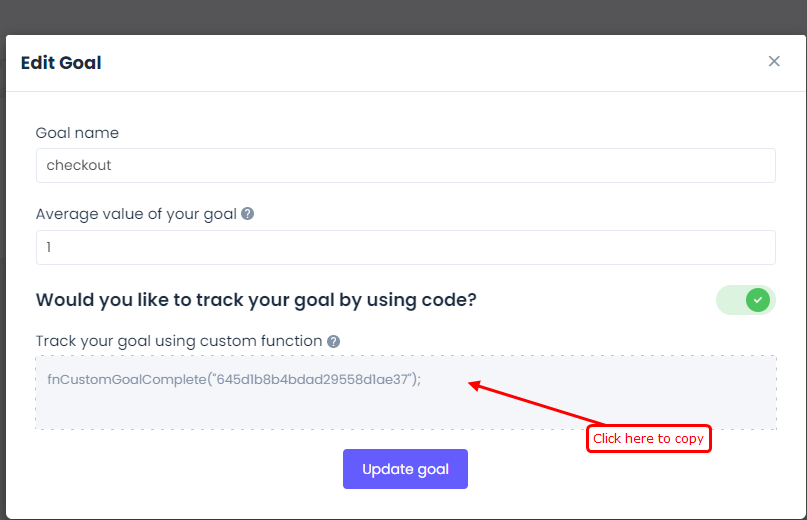 Goal Report:
Goals reports include total conversion, our contribution, conversion rates, goal visits, impressions, hover, and click
Here are some key terms to know about goals reports:

Total Conversion : The number of visitors who landed on your goal completion URL (Irrespective of WiserNotify)
Our contribution: The conversion ratio that includes at least one notification click or hover on the path to conversion (goal visits divided by total conversion)
Conversion rates: The ratio of conversions that are directly impacted by notifications (goal visits divided by impression)
Goal visits: How many goals are recorded after at least one notification has been clicked or hovered
Impression: Number of times the notification has been seen by the goal page visitors
Hover: Number of times goal page visitors hovered around the notification
Click: Number of times goal page visitors clicked on the notification
For any support or question, our team is available on live chat or sup[email protected] to assist you so feel free to talk with us.