WiserNotify  Thinkific App does the following once you install it:
Installs wisernotify pixel code on your thinkific store
Fetch latest enrollments and orders ( max. 30 records)
Subscribes the webhook for new enrollments & orders
Creates a live visitors & sales notification for you automatically so you can start showing  social proof
Overview
WiserNotify is a tool that delivers customizable social proof notifications and FOMO widgets to build trust and increase sales. Wisernotify is trusted by 7,000 websites!
let your store visitors know that they're in good institute , and your courses are popular & many students are joining & learning from your courses.
It shows live visitor count, recent sales & course enrollments notification on your store.
You can also show real-time review and recommendation notifications straight from Facebook, Google, and Twitter, plus you can display your YouTube channel stats like subscribers, number of videos, likes, and comments too.
Plus handy widgets like announcements, social media counters, video pop-ups, and timers supply another gentle nudge too .
It offers over 60 notification templates that provide full control on design so you can change image, shape, background, animation, size, and build the notification that perfectly suits to your store theme.
You can also implement the language translator to show your international customers some love, as well as add interactive calls-to-action to get clicks and convert buyers.
How to add wisernotify services on your site
1. Install the wisernotify app from the  thinkific app store
2. Accept the terms & Install the app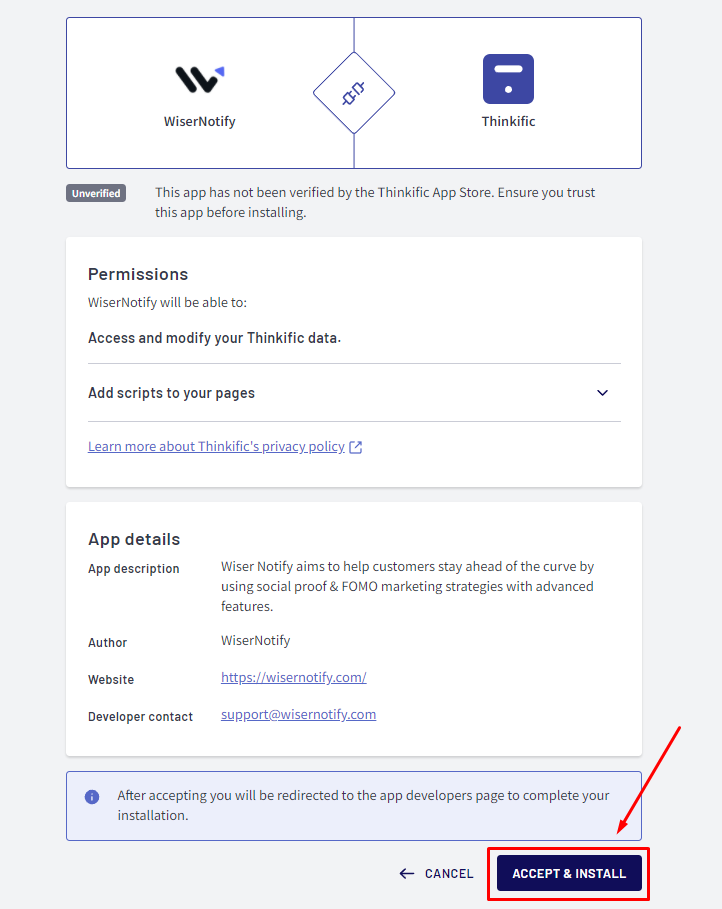 -- Click the link above
-- Accept the terms & Install the app
Done.
Now, visit your thinkific site & reload or refresh it.
We have created two notifications on behalf of you.
Live Notification
Purchase Notification
Since Wisernotify is collecting sign-ups & enrollments data, store owners can create conversion & conversion count notifications to show recent sign-up data & sign-up counter. Similarly, they can show sales & sales count notifications.
As of now, Thinkific doesn't capture the geolocation in notifications; you can set a default location by using the location fallback value option.
You will have options to customize notifications while editing the notification. Options are as follows:
Design section: This section allows you to customize design, edit text, CTA, icon, etc.
Display Rules: Here, you can add multiple websites and define page rules to show the notification. Also, Define the audience & set conditions to show or hide the notification to new visitors or returning visitors coming from specific sites or through campaigns.
Data-source: Use external data-source like email marketing tools or your CRM ( apart from thinkific) & display them into a notification. We have direct integrations with 200+ platforms.
If you use other websites to sell your courses, you can fetch sign-up & enrollment data from thinkific and show them on any site you want.
FAQ's
Can customer add multiple domains?
Yes, customers can use as many domains as they want.
Note that the URL section will be pre-filled with thinkific URL but you can change it or you can add other URL's where pixel is installed
How long does it take to sync data from thinkific to wisernotify?
It usually takes 5 minutes but we suggest you wait for 60 minutes. If still not synced it might be possible that you don't have any data to sync and if that's not the case, start a live chat on dashboard or you can reach us at [email protected]
For more queries reach us at [email protected] or chat with the support team if it is not working. We will help you in this integration process.
Can i show notifications on the custom domain?
Yes, you can show notifications on your custom domain, Check out this link
How to Uninstall Wisernotify
Uninstalling Wisernotify is  simple.
Login to your Thinkific account and go to Settings > Code and Analytics > Site Footer code and delete the wisernotify snippet.
Click Save.
Click on "Apps"
Find wisernotify under the Installed apps section and click the trash can icon to the right of the app.